Baker's Weekly Ad Circular, valid September 27 – October 3, 2023. This Week Ad best deals, and grocery savings on: Red Cherries; Vidalia Sweet Onions; Sterling Silver Boneless Chuck or Bottom Round Roast; Boneless Pork Half Loin; Gala, Jazz or Fuji Apples; Dillons Milk Vitamin D, 2%, 1%, or Skim or Kroger Chocolate Milk or Kroger Orange Juice; Organic Kale; Santa Cruz Organic Lemonade; Boneless Center-Cut Pork Loin Chops; Catfish Fillets; Kroger Salad Dressing 16 fl oz or Pasta Sauce, 24 oz; Simple Truth Organic Spring Mix; Aspen Folding Relaxer; Sara Lee Honey Wheat Bread; Organic Red or Green Seedless Grapes; Rosarita Refried Beans; Florida's Natural Orange Juice; Wild Caught Southern King Crab Legs; USDA Choice Ribeye Steaks; Pace Picante Sauce or Salsa; Cover Girl Flamed Out Mascara; Large Pomegranates; Nesquik Chocolate Milk; Walnuts, Almonds, Cashews or Pecans; Stonyfield Organic Greek Yogurt; Large Hass Avocados; and much more.
Find all deals, offers, and prices in the latest Baker's Weekly Sale Ad Circular.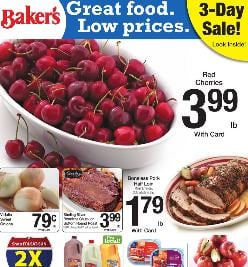 Promotions, discounts, rebates, coupons, specials, and the best sales for this week are available in the weekly ad circular for your store.