Browse Big Y Weekly Flyer Preview for this week, valid September 21 – September 27, 2023. $.88 Progresso Vegetable Classic Soup; $2.99 Fresh Salmon Portions; $6.99 lb World Classics Trading Company Oven Roasted Chicken Breast; B1G1 free Perdue Boneless Skinless Chicken Breast; 5/$10 Big Y Shredded Cheese; $1.59 lb Buckley Farms Point Cut Corned Beef; 2/$5 Nabisco Oreo Cookies; 10/$10 Big Y Vegetables; 2/$5 Eight O'Clock Coffee; 2/$5 Jif Peanut Butter; $10 Sea Scallops & Chips Dinner; $.99 Fresh Express Iceberg Garden Salad; $5.29 Florida's Natural Orange Juice; 2/$6 Healthy Ones Sliced Ham; $4.29 Store Baked Small Kaiser Rolls; 2/$5 Mrs. Dash Seasonings; 2/$5 Jumbo Cantaloupe; $2.99 lb Green Asparagus; $1.29 lb Red Onions; $.99 lb Red Potatoes; and more.
Find all deals and offers in the latest Big Y Weekly Ad for your local store.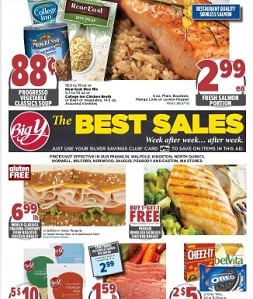 Promotions, discounts, rebates, coupons, specials, and the best sales for this week are available in the weekly ad circular for your store.