Browse Denny's SuperValu weekly ad circular & flyer sales. Discover the best Denny's SuperValu ad specials, grocery deals, printable coupons, and online offers on iweeklyads.com.
Here you will find the current Denny's SuperValu ad featuring great prices for: Boneless Top Round Steaks; Bone-in Pork Butt Steak; Porketta Pork Roast; Red Delicious Apples; Lemons; Honeydew Melons; Sweet Mini Peppers; Roma Tomatoes; Tombstone Pizza; Nabisco Family Size Cookies; Hunt's BBQ Sauce; Chobani Greek Yogurt; Chef Boyardee Pasta; Bush's Baked Beans; and more.
The grocery retailer store activate the weekly ad on every Sunday.
Denny's SuperValu is located at 510 5th St. Algoma, WI 54201.
Find all deals and offers in the latest Denny's SuperValu ad for your local store.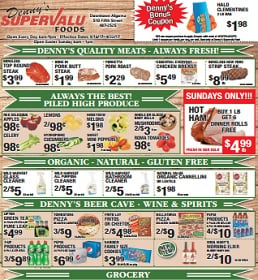 Promotions, discounts, rebates, coupons, specials, and the best sales for this week are available in the weekly ad circular for your store.