Find Weekly Specials from Dollar General, valid December 16 – December 22, 2018: 3/$5 Kellogg's Cereal Raisin Bran, Raisin Bran Crunch 18.2-18.7 oz., Special-K with Berries 11.2 oz. or Frosted Mini-Wheats 18 oz.; $4.95 Maxwell House Coffee Original 30.6 oz., Colombian 24.5 oz. or Breakfast Blend 25.6 oz. or K-Cups 12 ct. or McCafé Coffee K-Cups 12 ct., Premium Roast 24 oz. or Bag 12 oz.; 3/$3 Coca-Cola, Diet Coke or Sprite; 2/$5 Doritos 9.5-10.5 oz. or Cheetos 8-9 oz; $3.50 Downy Unstopables 9.7 oz. or Liquid Fabric Softener 48-60 Load/41-51 oz., Gain Fireworks Scent Boosters 9.7 oz. or Downy or Bounce Fabric Softener Sheets 90-105 ct.; $6.50 Scott Bath Tissue Extra Soft 18 Big rolls or Paper Towels 8 Mega rolls= 12 Reg. rolls; $5.95 Quilted Northern Bath Tissue Ultra Plush or Soft & Strong 12= 24 rolls or Sparkle Paper Towels 6 Big rolls; $.70 Cesar Dog Food; $8 DG home Ultra Strong Bath Tissue; $12.95 Heartland Farms Dog Food Grilled Favorites 31 lb. or Savory Gravy 30 lb.; $3 Farm Rich Mozzarella Sticks; $2.75 Kraft American Singles or Velveeta Slices; 4/$3 Hunt's Snack Pack; and more.
Find all deals and offers in the latest Dollar General Weekly Ad for your local store.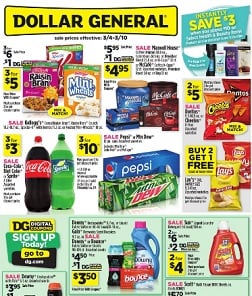 Promotions, discounts, rebates, coupons, specials, and the best sales for this week are available in the weekly ad circular for your store.
Advertisement: