Find El Rancho Weekly Ad Specials, valid March 15 – March 21, 2023. This Week Ad best deals, and grocery savings on: Beef Bottom Round Steak; Red Ripe Roma Tomatoes; Frozen Chicken Drumsticks; Fresh Crop White Rose Potatoes; Fiora Bath Tissue; Boneless Stew Meat; Sweet & Juicy Golden Pineapple; Boneless Skinless Fresh Chicken Breasts; Boneless Catfish Nuggets; Head-on Jumbo Shrimp; Cleaned Whole Tilapia; Boneless Beef Blade Meat; Marinated Beef Short Ribs; Bone-in Pork Sirloin Chops; Center-cut Pork Ribs; Marinated Pork Taco Meat; Whole Bone-in Pork Butt Roast; Marinated Chicken Leg Quarters; Fresh Whole Fryer Chicken; Bone-in Chicken Breast; Ready to Cook Boneless Tilapia Fillet; Boneless Atlantic Salmon Fillet; Marinated Basa-Swai Fillets; Imitation Crab Meat Salad; and more.
Find all deals, offers and prices in the latest El Rancho Weekly Sale Ad Specials in Texas.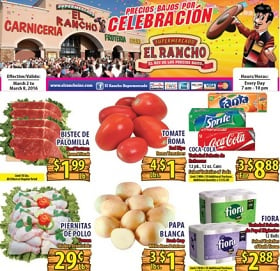 Promotions, discounts, rebates, coupons, specials, and the best sales for this week are available in the weekly ad circular for your store.