Browse the El Super weekly ad specials – El Super especiales de la semana, valid May 24 – May 30, 2023: 3lbs/$.99 Roma Tomatoes; $1.47 lb Fresh Boneless Skinless Whole Chicken Breast or Fresh Boneless Pork Stew Meat; 3lbs/$.99 Cantaloupe; $3.57 lb Fresh Regular or Marinated Boneless Beef Chuck Steaks or Roast; 2lbs/$.99 Maradol Papayas; $4.97 lb 36-40 ct Headless White Shrimp Frozen/Defrosted; $2.97 lb FUD Turkey Ham, Smoked, Regular or Low Salt Sold in Bulk; 5/$10 Niagara Water; $1.99 Doritos or Ruffles; $5.99 lb Nescafe Instant Coffee; $2.49 Ranchero Fresh Cheese; 3/$5 C&H Granulated Sugar; $2.97 Kellogg's Frosted Flakes; 2/$5 Capri Sun Assorted Flavors; 4/$1 Special Value Tomato Sauce; $1.99 Calidad Corn Tortillas; $2.39 Betty Crocker Pancake Mix; $1.17 La Costena Whole Jalapeno Peppers; $1.99 Bimbo White, Wheat or Double Fiber Sandwich Bread; $4.99 Pepperidge Farm Goldfish Variety Packs; $6.97 Roma Laundry Detergent, 5kg; and more.
Find all deals and offers in the latest El Super Weekly Ad for your local store. Especiales del Super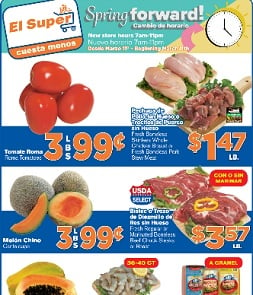 Promotions, discounts, rebates, coupons, specials, and the best sales for this week are available in the weekly ad circular for your store.