Current Fair Share weekly ad circular and flyer sales. Discover the best Fair Share ad specials, coupons and online deals.
Here you will find the most current Fair Share weekly ad featuring great prices on Chiquita Bananas; Bone-In Assorted Pork Chops; Quartered Chicken Legs; Red Ripe Strawberries; Beef Skirt Steak; Whole Catfish; Assorted Frozen Entrees; Crystal Geyser Spring Water; Juicy Juice 100% Juice; Spikes Salsa; Hinckley Springs Water; Evian Water; Duncat Hines Cake Mix; Dunkin; Donuts Coffee; Skippy Peanut Butter; USDA Choice Boneless Beef Short Ribs; Fresh Whole Chicken; Jennie-O Turkey Brats; Butterball Turkey Breast; Homemade Greek Salad; Centrella Cream Cheese; Centrella Bleach; Banquet Dinners; North Star Ice Cream Treats; Cantaloupe; Tomatoes On The Vine; Minneolas; Kiwi Fruit; Dandelion Greens; and more.
Fair Share stores activate their weekly ad on every Wednesday.
Fair Share has stores in 6226 W Roosevelt Road, Oak Park, IL. 60304; 6422 W. 63rd Street, Chicago, IL. 60638.
Find all deals and offers in the latest Fair Share ad for your local store.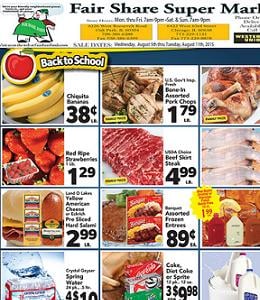 Promotions, discounts, rebates, coupons, specials, and the best sales for this week are available in the weekly ad circular for your store.