Browse Fligner's Market weekly ad circular & flyer sales. Discover the best Fligner's Market Lorain Ad specials, grocery deals, printable coupons, and online offers on iweeklyads.com.
Here you will find the current ad featuring great prices for: Bone-in Center Cut Pork Chops; Fresh Chicken Leg Quarters; Fresh Boneless Chicken Breast; Whole Beef Tenderloins; Boneless Top Round Roast; Lean Ground Chuck; Tender Rib Steaks; Fresh Tilapia Fillets; Cooked Shrimp; California Navel Oranges;Jumbo Roma Tomatoes;Red Peppers; Russet Potatoes; Sweet Jumbo Pineapple; Green Cabbage; Ruby Pink Grapefruit; and more.
The grocery retailer activate the weekly ad on every Wednesday.
Fligner's Market is located at 1854 Broadway Avenue, Lorain, Ohio.
Find all deals and offers in the latest Fligner's Market ad for your local store. Also check Fishers Foods Ohio Sales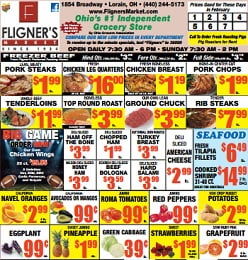 Promotions, discounts, rebates, coupons, specials, and the best sales for this week are available in the weekly ad circular for your store.