Food City Weekly Ad Circular, valid September 20 – September 26, 2023. This Week Food City Ad best deals, and grocery savings on: Red Seedless Grapes; Food Club Tomato Soup; Food Club Cereal; Hellmann's Mayonnaise; Hormel Compleats; Farm Raised Fresh Salmon Fillets; Fresh Express American or Italian Salad; Assorted Pork Chops; Certified Angus Beef Top Sirloin Steak; Food City Fresh Chicken Breast Tenders; Wegmans Fresh Beef 1 Pack; Scott Paper Towels; Fresh Boneless Pork Chops; Fresh Catfish Fillets; Nestlé Tollhouse Cookie Dough; Food Club American Singles; All Laundry Detergent; Seattle's Best Coffee; Pillsbury Toaster Strudel; General Mills Chex Cereal; Bisquick Baking Mix; Beef Steak Tomatoes; Yellow, Orange Or Red Bell Peppers; Cooked Shrimp; Orange Roughy Fillets; and much more.
Find all deals and offers from every category, in the latest Food City Weekly Sale Ad Circular.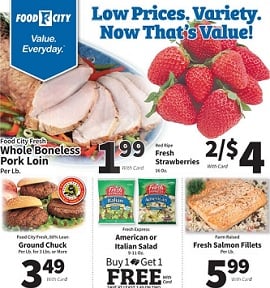 Promotions, discounts, rebates, coupons, specials, and the best sales for this week are available in the weekly ad circular for your store.