Browse the online Foodarama Weekly Ad specials, valid November 29 – December 5, 2023. This Week Ad best deals, and grocery savings on: USDA Angus Whole Beef Brisket; Fresh Bone-in Beef Cowboy Ribeye Steaks; Kountry Boys Smoked Sausage; Boneless Skinless Chicken Breasts or Thighs; Fresh Pork Spare Ribs; Bush's Best Baked Beans; Stubb's Bar-B-Q Sauce or Marinade; Large Creamy Hass Avocados; Fresh Atlantic Salmon Fillet; Freshly Made Guacamole; Minute Maid Pure Squeezed Orange Juice; Sara Lee Butter Bread; Borden Chunk or Shredded Cheese; Oak Farms Sour Cream; Town Talk Sandwich Bread; Fresh Pork Shoulder Roast; Cook's Point Cut Corned Beef Brisket; Texas Wild Caught Raw Shrimp; Fresh Pork Sirloin Chops; Boneless Skinless Cod Fillet; Oscar Mayer Ham Lunch Meat; Blue Ribbon Smoked Sausage Links; Jennie-O Jumbo Turkey Franks; Texas Grown Baby Bella Mushrooms; and more.
Find all deals and offers in the latest Foodarama Weekly Ad for your local store.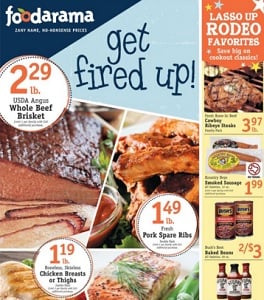 Promotions, discounts, rebates, coupons, specials, and the best sales for this week are available in the weekly ad circular for your store.