This week Fry's Food Ad best savings, valid November 24 – November 28, 2023. $.88 Blueberries; $.88 Fresh Foster Farms Whole Chicken, Drumsticks or Thighs; $.88 Whole Cantaloupe; $6.99 lb Fresh Atlantic Salmon; $5.77 lb T-Bone or New York Strip Steak; $1.99 lb Organic Honeycrisp Apples; $1.99 Simple Truth Cage-Free Eggs 12 ct or Simple Truth Organic Yogurt, 32 oz or Simple Truth Organic Cream Cheese, 8 oz; 2/$5 Simply Juice 52 fl oz or Simple Truth Plant-Based Milk, 64 fl oz; 10/$10 Kroger Jumbo Biscuits 16 oz or Kroger Cinnamon or Crescent Rolls, 8 oz; $.88 Michelina's Entrée 4.5-9.5 oz or Kroger 3-Minute Microwave Pizza, 7.2 oz or Kroger French Bread Pizza, 4.37-5.3 oz; 4/$5 Kroger Cottage Cheese or Sour Cream or Dip; 2/$5 Kroger Deluxe Ice Cream or Dairy Dessert 48 fl oz or Big Wheels, 6 ct; 2/$5 M&M's; $2.99 Simple Truth Low Cow Ice Cream or Simple Truth Organic Ice Cream; $14.99 Tulip and Iris Bouquet; $12.99 Calla Lily; $2.99 Strawberries; and more.
Find all deals and offers from every category, in the latest Fry's Food Weekly Ad for your local store.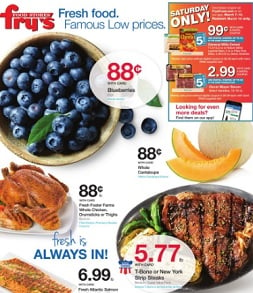 Promotions, discounts, rebates, coupons, specials, and the best sales for this week are available in the weekly ad circular for your store.