Browse the Hannaford Weekly Flyer preview for this week, valid September 24 – September 30, 2023. Find this week Hannaford Flyer best deals, and grocery savings on: Southern Style Pork Ribs; Whole Seedless Watermelon; Georgia Peaches; Boneless Strip Steak; Grass Fed Top Sirloin Steak; Nectarines or Peaches; Land O Lakes American Cheese; Bantry Bay Mussels in Sauce; Hannaford Italian Sausage; Imported Polish Ham; Fresh Boneless Atlantic Salmon Fillets; Hood Ice Cream; Kraft American Singles; Betty Crocker Suddenly Salad; Dannon Activia Yogurt; Minute Maid Simply Orange Juice; Suave Shampoo or Conditioner; Hannaford Dry Roasted Peanuts; Hannaford Peanut Butter; Kelloggs Raisin Bran Cereal; my essentials Pasta; Rice-A-Roni or Pasta Roni; Heinz Tomato Ketchup; BelGioioso Fresh Mozzarella Ball; and more.
Find all deals and offers in the latest Hannaford Flyer for your local store.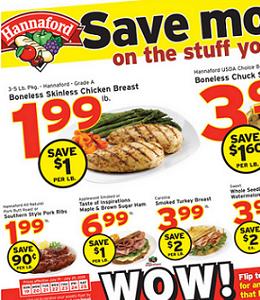 Promotions, discounts, rebates, coupons, specials, and the best sales for this week are available in the weekly ad circular for your store.