Latest best deals from Hobby Lobby valid August 30 – September 5, 2015: $9.99 Indie Spirit Dots Acrylic Mirrors Add-Heres; $9.99 Birds on a Wire Mirror Add-Heres; $12.50 6 1/2″ Off White Ceramic Simple Classic Planter; $3 1 Corinthians 13:7-8 Resin Cross; $35.99 Fall Sunflower Arrangement in Ceramic Pot; $35.99 Lotus & Acorn Fall Mix Candle Holder; $4.79 Tweedia, Knotweed & Grass Bush; $1.79 Red Velvet Super 10 Loop Bow; $17.99 3′ Fancy Pine Tree; $7.19 Angel Cloud Softer Angel Hair; $5.39 Red & White Peppermint Candy Shape Ornaments; $3.66 Linen I Love This Yarn Solid Yarn; $3.66 Red I Love This Yarn Metallic Yarn; $32.19 Disney's Sleeping Beauty Cross Stitch Kit; $12.59 Jungle Animals Crib Quilt Top Needle Art Kit; $4.50 5″ x 7″ Barnwood Shadow Box Display Case; $9.09 Barbie Crayola Color Wonder Kit; $6.99 12-Ounce Dry Erase Spray Paint; $2.79 Crayola Washable Crayons; and more.
Find all deals and offers in the latest Hobby Lobby weekly ad for your local store.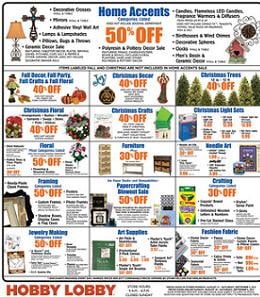 Promotions, discounts, rebates, coupons, specials, and the best sales for this week are available in the weekly ad circular for your store.