Current Holiday Market ad, circular and flyer sales in 520 S. Lilley Rd. Canton, Michigan 48188. Discover the best Holiday Market weekly ad coupons and offers on iweeklyads.com.
Here you will find the most current Holiday Market ad featuring great prices on: Chicken Leg Quarters; Whole Pork Tenderloin; Spartan 2% Reduced Fat Milk; Kellogg's Cereal; Barilla Pasta; Spartan Dressing; Spartan Ketchup; Ground Pork; Sirloin Tip Steak; Whole Pork Tenderloin; Beef Cubed Steak; Italian Sausage; Beef Tenderloin; Boneless Rump Roast; Bottom Round Steak; Ball Park Meat Franks; Oscar Mayer Delifresh Sliced Lunch Meat; Smithfield Sliced Bacon; Atlantic Salmon Fillets; Norwgian Salmon Fillets; Pier 33 Gourmet Mussels; Garlic & Cilantro Shrimp Skewers; Harvest of the Sea Cooked Shrimp; Vanilla Cheesecake; Boston Cream Cake; and more.
Holiday Market store activate it's weekly ad on every Monday and it's open Monday through Saturday 8:00am – 10:00pm; Sunday 9:00am – 9:00pm.
Find all deals and offers in the latest Holiday Market ad for your local store.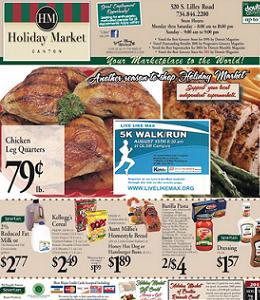 Promotions, discounts, rebates, coupons, specials, and the best sales for this week are available in the weekly ad circular for your store.