This week best deals from HyVee Ad, valid September 18 – September 24, 2023: 5/$4 Hormel Little Sizzlers; $1.49 Birds Eye Vegetables; $4.99 Hy-Vee Cooked Shrimp; 3/$4 Oscar Mayer Bologna or Cotto Salami; $.98 Hy-Vee Sandwich Bread; $1.99 Heinz Tomato Ketchup; $4.99 lb Boneless Beef Sirloin Steak; $1.99 Doritos or Lay's Kettle Cooked Chips; $1.48 lb Fresh Asparagus; $19.77 Luvs Diapers; $12 Ground Beef Patties 85% lean; $3.99 English Muffin Bread; $5.99 6 ct. Brownies or Bars; 5/$10 Hy-Vee Shredded or Bar Natural Cheese; $2.99 Hy-Vee Natural Spring Water; 2/$4 Hy-Vee Soft Cream Cheese; 2/$4 Oscar Mayer Hot Dogs; $.88 Hunt's Pasta Sauce; $5.99 lb Hy-Vee Quality Deli Sliced Turkey; $29.99 Chinese Dinner for Four 4 pint enrees, 2 pints rice, 4 egg rolls, 4 crab rangoon & 4 fortune cookies; and more.
Find all deals and offers from every category, in the latest HyVee Sale Ad for your local store.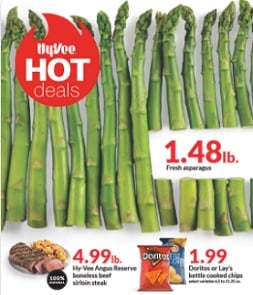 Promotions, discounts, rebates, coupons, specials, and the best sales for this week are available in the weekly ad circular for your store.