IGA Weekly Ad Circular, valid December 9 – December 15, 2020. This Week Ad best deals, and grocery savings on: Fresh Green Asparagus; IGA Frozen Vegetables; North Star Ice Cream Sandwiches; Ray's Chili with Beans; Prego Pasta Sauce; Western or Wish-Bone Salad Dressing; Brooks Chili Beans; General Mills Cereal Honey Nut Cheerios; Herbal Essences Shampoo or Conditioner; Hormel Always Tender Pork Boneless Top Loin Pork Roast; El Monterey Burritos or Chimichangas; Fresh Baked Sweet French Bread; Kretschmar Colby Cheesel Extra Large Red Seedless Grapes; Large Beefsteak Tomatoes; Red, Yellow or Orange Bell Peppers; Whole Boneless New York Strip; Washington Braeburn Apples; Green Giant Klondike Rose, Goldust Potatoes; and much more.
Find all deals, offers and prices in the latest IGA Weekly Sale Ad Specials.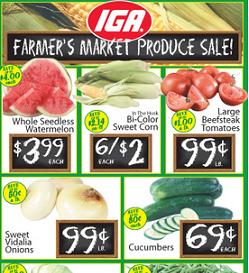 Promotions, discounts, rebates, coupons, specials, and the best sales for this week are available in the weekly ad circular for your store.