Explore the Ingles Ad specials for this week and grocery savings, valid September 20 – September 26, 2023: Northwest Bartlett Pears; USDA Choice Boneless Beef Chuck Roast; Tyson Boneless Skinless Chicken Breast; Whole Boneless Pork Loin; Board's Head Smokemaster Beechwood Smoked Black Forest Ham; Breyer's Frozen Dessert; Tanimura & Antle Broccoli or Cauliflower; Red, White or Black California Seedless Grapes; Mountain Majesty Tomatoes; Sweet Potatoes; Organic Butternut Squash; Dozen Rose Special; Fall Sunset Bouquet; Mix Floral Bouquet; Fresh Tilapia Fillet; Carolina Raw Shrimp; Boneless Pork Chops; Swai Fillet; Mediterranean Crusted Salmon; Tyson Boneless Skinless Thighs; Coleman Organic Chicken Tenders; Dr Oetker Ristorante Thin Pizza; Green Giant Steamers Box Sauced Vegetables; and more.
Find all deals and offers in the latest Ingles Weekly Ad for your local store.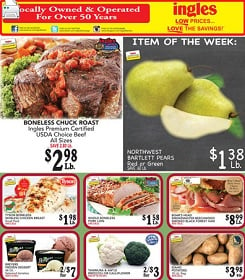 Promotions, discounts, rebates, coupons, specials, and the best sales for this week are available in the weekly ad circular for your store.