Preview the La Bonita Supermarkets weekly ad, circular and flyer sales in NV. Discover the best La Bonita ad coupons and online grocery offers on iweeklyads.com.
Here you will find the most current La Bonita Supermarkets ad featuring great prices on: Cucumbers; Shoulder Clod Steak; Bone-In Chicken Breast; Red Apples; Cantaloupe; Mexican Shrimp; Dozen Roses; Zulka Mexica Sugar; Frito Lay Assorted Snacks; Chocoflan; La Costena Whole Jalapenos; Faraon Long Grain Rice; Eggo Waffles; Lactaid Milk; Lala Yogurt; Cielito Bath Tissue; Red Onions; Red Pears; Large Pineapple; Beef Shank; Plain or Marinated Chicken Leg Quarters; and more.
Find all deals and offers in the latest La Bonita Supermarkets ad for your local store.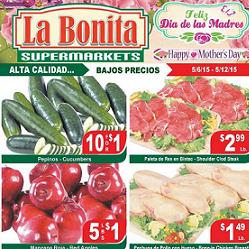 La Bonita Supermarkets stores activate their weekly ad on every Wednesday. La Bonita Supermarkets has stores opened in: 2405 E. Ogden, Las Vegas, NV 89101; 2672 Las Vegas Blvd., N. Las Vegas, NV 89030; 2021 Civic Center Dr., N. Las Vegas, NV 89030; 2500 E. Desert Inn Rd., Las Vegas, NV 89121; 4120 S Rainbow Blvd., Las Vegas, NV 89103.
Promotions, discounts, rebates, coupons, specials, and the best sales for this week are available in the weekly ad circular for your store.