Current Lunds & Byerlys ad, circular and flyer sales in MN. Discover the best Lunds & Byerlys weekly ad coupons and offers on iweeklyads.com.
Here you will find the most current Lunds & Byerlys ad featuring great prices on: New York Croutons; Pepperidge Farm Whole Grain Breads; Quaker Instant Oatmeal; Starkist Solid White Tuna; Old Home Cottage Cheese; Boar's Head Beechwood Smoked Black Forest Ham; Our Deli Cherry Chicken Pasta Salad; Our Deli Thai Peanut Pasta Salad; Pita Pal Hummus; Hip Chick Farms Chicken Nuggets; Lunds & Byerlys Frozen Soups; No Name Steaks; Butcher & The Boar Sausages; Fresh Norwegian Salmon Fillets; Premium Choice T-Bone and Porterhouse Steaks; Raw E-Z Peel Shrimp; Uncle Ben's Country Inn Rices; Lunds & Byerlys Hand-Dipped Caramel Apples; Red and Green Bartlett Pears; Nabisco Family Size Wheat Thins and Triscuits; and more.
Lunds & Byerlys stores activate their weekly ad on every Thursday. Lunds & Byerlys has more than 20 stores across Minnesota in Minneapolis, Golden Valley, St. Louis Park, Roseville, Edina, St. Paul, Richfield, Minnetonka, Plymouth, Wayzata, Eagan, Maple Grove, Bloomington, Eden Prairie, Woodbury, Chanhassen, Burnsville, Navarre, Prior Lake and St. Cloud.
Find all deals and offers in the latest Lunds & Byerlys ad for your local store.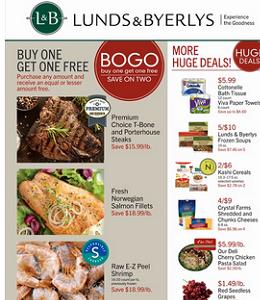 Promotions, discounts, rebates, coupons, specials, and the best sales for this week are available in the weekly ad circular for your store.