Browse the Marc's Weekly Ad Specials, valid August 3 – August 9, 2022. This Week Ad best deals, and grocery savings on: Freschetta 12" Pizza; Thomas' English Muffins; Xtra 2X Liquid Laundry Detergent; Eight O'Clock Coffee; Ortega Taco Shells;  Snuggle Liquid Fabric Softener; Amish Valley Center Cut Rib Pork Chops; Post Family Size Honey Bunches of Oats or Raisin Bran; Natural Garden Aloe Vera or Coconut Juice; Lipton Pure Leaf Tea; Egg-Land's Best Grade A Large Eggs; Kraft American Cheese Singles; Bauducco Cream Filled Wafers; Jumbo Cantaloupe; Barilla Pasta Sauce; Barilla Pasta; Just for Men Hair Color; Galbani Sorrento Ricotta Cheese; The Authentic Stadium Mustard; and more.
Find all deals and offers in the latest Marc's Weekly Ad for your local store.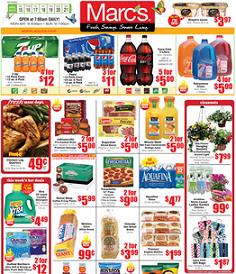 Promotions, discounts, rebates, coupons, specials, and the best sales for this week are available in the weekly ad circular for your store.