Browse the Demoulas Market Basket circular specials, March 26 – April 1, 2023: $0.99 lb Whole Fresh Pork Picnic; $9.99 lb Ocean Fresh Wild All Natural Large Icelandic Cod Loins; $1.79 lb Boneless & Skinless Chicken Thighs; $6.99 Sal's Sicilian Style Pizza; $0.99 lb Jumbo Green Peppers; 5/$5 Starkist Solid White Tuna; $0.89 each Tropical Mangos; $0.49 lb Red Ripe Seedless Watermelon; $0.99 lb Plump Tender Eggplant; $0.79 lb Tangy Red Salad Onions; $1.99 lb Red Sweet Peppers; $2.49 lb Organic Stem Cluster Tomatoes; $2.49 lb USDA Choice Beef Chuck London Broil Steak; $0.59 lb Fresh Chicken Leg Quarters; $2.49 lb Fresh Pork Spare Ribs; $1.49 lb Fresh Whole Chickens; $5.99 lb DiLuigi Chicken Cordon Bleu; $4.99 lb Thin Sliced Chicken Breast Cutlets; $10.99 Tide Laundry Detergent; and more.
Find all deals and offers in the latest Demoulas Market Basket Weekly Circular for your local store.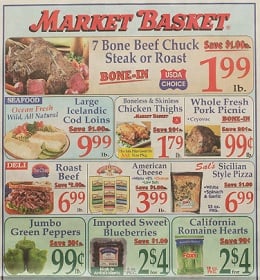 Promotions, discounts, rebates, coupons, specials, and the best sales for this week are available in the weekly ad circular for your store.