The Northgate Market weekly ad, circular and flyer sales in CA. Discover the new Northgate Market ad coupons and grocery offers on iweeklyads.com.
Here you will find the most current Northgate Market ad featuring great prices on: Persian Limes; Seedless Watermelon; Fresh Homestyle Cheese; Fresh Chicken Drumsticks; Fresh Pork Butt Roast; Extra Large Grade AA Eggs; Scott Extra Soft Bath Tissue or Paper Towels; Shampoo & Conditioner; Gonzalez Sopes; Deep Fried Pork; Corn Tortillas; Soft Taco Flour Tortillas; Multicleaner and Max Cleaners; Large Manila or Regular Mangos; Avocado Hass Medium; Elegant Bouquet; Chile Plant; Ground Turkey; Spinach or Baby Kale; and more.
Northgate Market stores activate their weekly ad every Wednesday – it has more than 40 stores across California, in cities like Anaheim, Santa Ana, San Diego, Chula Vista, Los Angeles or Long Beach.
Find all deals and offers in the latest Northgate Market ad for your local store.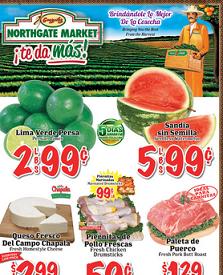 Promotions, discounts, rebates, coupons, specials, and the best sales for this week are available in the weekly ad circular for your store.