Current Pontiac Foodland ad, circular and flyer sales in 1925 N. Perry Rd, Pontiac, MI, 48340. Discover the best Pontiac Foodland weekly ad coupons and offers on iweeklyads.com.
Here you will find the most current Pontiac Foodland ad featuring great prices on: Bone-In Split Chicken Breast; Boneless Center Cut Pork Chops; Eckrich Family Pack Smoked or Polish Sausage; Whole Seedless Watermelon; Green or Red Seedless Grapes; Idaho Potatoes; Essential Everyday Shredded Cheese; Crisco Cooking Oil; Minute Maid Fruit Drinks; Post Cereals; Hunt's Tomato Ketchup; Hidden Valley Original Ranch Dressing; Palmolive Dish Detergent; Italian Bread; Roma Tomatoes; Jalapeno Peppers; Cello Lettuce; Washington Apples; Dole Gold Pineapples; Cilantro; Navel Oranges; Yoplait Yogurt; Ground Beef Hamburger; Beef Steak Marinated; and more.
Pontiac Foodland store activate it's weekly ad on every Tuesday.
Find all deals and offers in the latest Pontiac Foodland ad for your local store.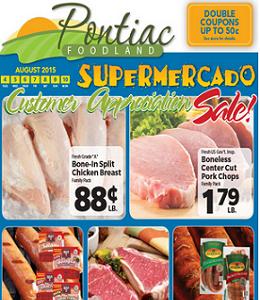 Promotions, discounts, rebates, coupons, specials, and the best sales for this week are available in the weekly ad circular for your store.