This week specials: Fresh Red or Yellow Potatoes 5 lb bag BOGO; $1.99 Purex Laundry Detergent; $1.69 lb Shannon Farms Corned Beef Point Cut Brisket; $0.99 lb Price Chopper Oven Roasting or Whole Chicken; Boneless Center Cut Pork Chops BOGO; $5.99 Green Mountain K-Cups 12 ct; $4.79 lb Certified Angus Beef Corned Beef Flat Cut Brisket; Philly-Gourmet Sandwich Steaks BOGO; Haddock, Cod, Flounder or Swai Fillets BOGO; 5 for $5 Seedless California Navel Oranges; $2.99 Fresh Sweet Jumbo Cantaloupes; $1.99 Toufayan Sandwich Wraps; $5.99 lb Finlandia Swiss Cheese; $3.97 Dove Chocolate Bunny or Eggs; $5.49 Newman's Own Natural Pizza; $2.99 Nature Valley Granola Bars; $1.99 Barilla Pasta Sauce; ALL Conair or Scünci Hair Accessories BOGO; $4.99 Vaseline Intensive Care Lotion 20.3 oz; and much more.
Find all deals and offers from every category, in the latest Price Chopper Weekly Ad for your local store.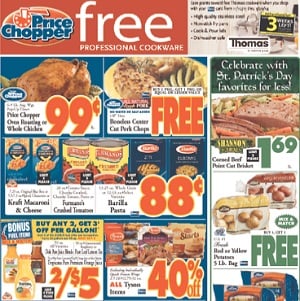 Promotions, discounts, rebates, coupons, specials, and the best sales for this week are available in the weekly ad circular for your store.