Current Quality Foods ad, circular and flyer sales in GA and SC. Discover the best Quality Foods weekly ad coupons and offers on iweeklyads.com.
Here you will find the most current Quality Foods ad featuring great prices on: Cube Steak; Whole Fryers; Srumsticks; Aquafina Water; Chips Ahoy!; Kool-Aid Busrts; Bottom Round Roast; Pork Loin; Onions; Cantaloupes; Sparkle Paper Towels; Gala Apples; Apple or Grape Jelly; Maruchan Cup Noodles; Carolina Pride Sliced Bacon; Beef Patties or Steaks; Mrs. Stratton's Salads; Hass Avocados; Jalapeno Peppers; Tomatoes; Baby Carrots; Ripe Mangos; and more.
Quality Foods stores activate their weekly ad on every Wednesday.
Quality Foods has stores opened in: 207 Highway 28 By-Pass Anderson, SC 29624; 508 North Main Street Greer, SC 29651; 3185 Maysville Road Commerce, GA 30529; 195 Quality Foods Shopping Ctr Cornelia, GA 30531; 1028 Benson Street Hartwell, GA 30643; 748 West Springs Street Monroe, GA 30655; 4450 Nelson Brogdon Blvd Buford, GA 30518; 1502 Big A Road Toccoa, GA 30577; 208-A North Broad Street Winder, GA 30680.
Find all deals and offers in the latest Quality Foods ad for your local store.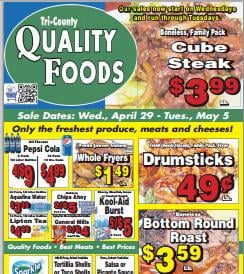 Promotions, discounts, rebates, coupons, specials, and the best sales for this week are available in the weekly ad circular for your store.