Browse the Quality Foods Weekly Ad Specials for this week, valid November 8 – November 14, 2023. This Week Ad best deals, and grocery savings on: T-Bone Steak; Pepsi-Cola, 18 Pack; Fresh Farms Buttermilk; Delicious Apples; Tender Yellow Squash; Premium Saltines; Nabisco Single Serve; General Mills Cereals; Classic Roast Folger's Coffee; Morning Fresh Farms Spread; Better Valu Tea Bags; French Fries, Taters or Wedges; Better Valu Paper Towels; Nature's Best Flounder Fillets; Red Slicing Tomatoes; Fresh Broccoli Crowns; Maxwell House Wake-Up Roast Coffee; Hy Top Refried Beans; Hunt's Spaghetti Sauce; Hy Top Chunk Light Tuna; Daisy Sour Cream; Apple, Grapefruit or Orange Simply Juice; Boneless Ribeye Steaks; and much more.
Find all deals and offers, in the latest Quality Foods Weekly Sale Ad Circular.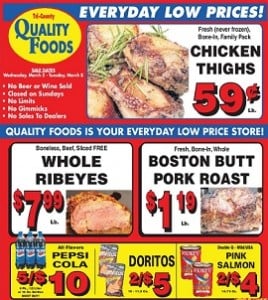 Promotions, discounts, rebates, coupons, specials, and the best sales for this week are available in the weekly ad circular for your store.