Current grocery savings from this Ralphs weekly ad preview for this week, valid September 20 – September 26, 2023: $.88 Blackberries or Blueberries; $1.99 lb Kroger Boneless Corned Beef Brisket; $.88 Red, Orange, Yellow or Green Bell Peppers or English Cucumbers; $5.99 lb Extra Large EZ Peel Shrimp; $1.88 lb Asparagus; 2/$5 Simply Juice 52 fl oz or Simple Truth Plant-Based Milk, 64 fl oz; $6.99 8-Piece Fried, Baked or BBQ Baked Chicken; $3.99 Alstroemeria; $3.79 Amy's Bowls; $2.99 Arrowhead Spring Water; $2.99 Avocados; $4.99 Baby Wash & Shampoo or Body Lotion; 4/$5 Beech-Nut Baby Food 3.5 oz or Earth's Best Baby Food, 3.5-4.2 oz; $.88 Blackberries or Blueberries; $9.99 Bloom Haus Roses; 2/$6 Bob Evans Side Dishes; 2/$4 Bolthouse Farms Juice; $.99 lb California Heirloom or Cara Cara Navels or Minneola Tangelos; $3.99 California Organic Mandarins; $3.99 Cars 3 Mini Racer; and more.
Find all deals and offers in the latest Ralphs Weekly Ad for your local store.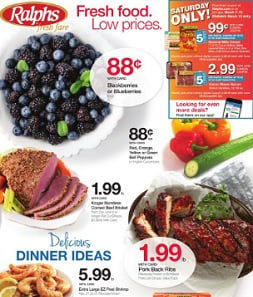 Promotions, discounts, rebates, coupons, specials, and the best sales for this week are available in the weekly ad circular for your store.