Browse Rancho Markets Weekly Ad Specials, valid March 21 – March 27, 2023. This Week Ad best deals, and grocery savings on: Tangerines or Grapefruits; Beef Shoulder Clod Steak; Bone-in Pork Stew Meat; Beef Taco Meat or Beef Stew Meat; Chicken Breast Fajitas or Xtra Lean Pork Fajitas; Shredded Beef Meat or Ox-tail; Chicken Drumsticks or Chicken Neckbones; Fud Fresh Cheese; Russet Potatoes; Radishes, Cilantro or Green Onion; Whole or Ground Tilapia Fillet; Mexican Large Shrimp; Downy Aroma Floral; Tide Powder Laundry Detergent; Plantain Banana; Cucumber; Mexican Squash; Oranges; Fresh Jicama; Ranch Style Chorizo; Large Mexican Hass Avocados; Beef Flanken Ribs or Chuck Roll Steak; Salvadorian Chorizo to Grill; and more.
Find all deals, offers and prices in the latest Weekly Ad Specials.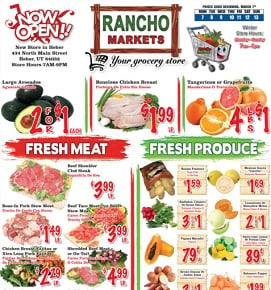 Promotions, discounts, rebates, coupons, specials, and the best sales for this week are available in the weekly ad circular for your store.