Browse the Save A Lot Ad Specials for this week, valid December 6 – December 12, 2023. $5.99 lb Fresh Boneless Beef Rib Eye Steaks Family Pack; $1.49 lb Fresh Bone-In Pork Butt Steaks or Western Ribs Family Pack; $1.69 lb Fresh Boneless Skinless Chicken Breasts Family Pack; $3.49 Farmington Butcher's Choice Bratwurst or Italian Sausage; $.99 lb Fresh Red or Green Seedless Grapes; $.89 Fresh Avocados; $.99 Dole Garden Salad; $6.99 Folgers Classic Roast Coffee; $2.79 Chex Mix; 2/$5 Fresh Mini Watermelon; $1.89 Hot Pockets 2 Pack; $1.99 Oscar Mayer Fun Pack Lunchables; $6.99 Swaggerty's Farm Sausage Patties; $3.99 Smithfield Hometown Original Bacon; $1.99 Ocean Spray Cranberry Juice Cocktail; $2.49 Keebler Town House or Club Crackers; $2.69 Pillsbury Holiday Cookie Shapes; $1.99 Post Cereal Oreo O's or Honey Maid S'mores; and more.
Find all deals and offers from every category, in the latest Save A Lot Weekly Ad for your local store.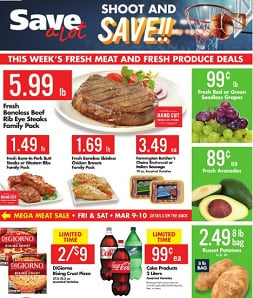 Promotions, discounts, rebates, coupons, specials, and the best sales for this week are available in the weekly ad circular for your store.