Current Schaefer's Foods ad, circular and flyer sales in Schaefer's Corner Hwy 371, Nisswa. Discover the best Schaefer's Foods weekly ad coupons and offers on iweeklyads.com.
Here you will find the most current Schaefer's Foods ad featuring great prices on: Bone-In Rib Eye Steaks; Boneless Beef Stew Meat; Bone-In Center Cut Pork Chops; Just Bare Boneless Skinless Chicken Breasts or Thighs; Little Sizzlers; Ball Park Original Franks; Fresh Bratwursts or Italian Sausage; Boneless Beef Chuck Roast; Honey Ham; Dole Classic Iceberg Salad; Jimmy's Caramel Dips; Squash ; Granny Smith Apples; Swiss Cheese; Apple Juice; Barilla Pasta; Premium Chicken Breast; Kingsford Charcoal; Mandarin Oranges; Tombstone Pizza; Vienna Bread; Carrot Cake; and more.
Schaefer's Foods store activate it's weekly ad on every Sunday.
Find all deals and offers in the latest Schaefer's Foods ad for your local store.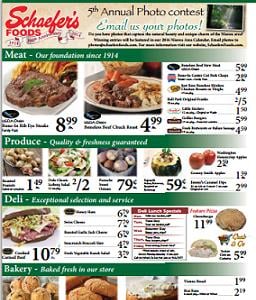 Promotions, discounts, rebates, coupons, specials, and the best sales for this week are available in the weekly ad circular for your store.