Schnucks Weekly Ad Circular, valid March 22 – March 28, 2023. This Week Ad best deals, and grocery savings on: Green Seedless Grapes; Natural Fresh Boneless, Skinless Chicken Breasts; USDA Choice Certified Angus Beef Fresh; Select Top Round Corned Beef; Maxwell House Coffee; Natural Fresh Boneless, Skinless Chicken Breasts or Thighs; Fresh Beef Stew Meat; Odom's Tennessee Pride Pork Sausage; Steak-Umm Sliced Steaks; Stouffer's Family Size Entrées; Rainbow Trout Fillets; Fresh Boneless, Skinless Salmon Portions; All Natural Swai Fillets; Wild Gulf Raw Shrimp; SeaPak Breaded Shrimp; Whole Roasted Chicken; Corned Beef Round; Irish Soda Bread; José Olé Mexican Snacks; Northwest Grown Jumbo Green Anjou Pears; and much more.
Find all deals, offers, and prices in the latest Schnucks Weekly Sale Ad Circular.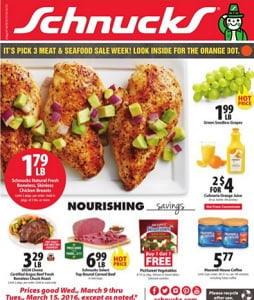 Promotions, discounts, rebates, coupons, specials, and the best sales for this week are available in the weekly ad circular for your store.