Current best savings from Sellers Brothers Ad Specials, valid March 22 – March 28, 2023: $.79 lb USDA Whole Bone-In Fresh Pork Shoulder Picnics; 2/$5 Niagara Drinking Water; $.99 lb Peaches or Nectarines; $.99 Iceberg Lettuce; $.99 Golden Pineapples; $.99 Parade Spread Crock; $3.99 Tide Liquid Detergent; $2.49 lb Freshwater Tilapia Fillets; $3.49 lb Bottom Round Steaks; $3.99 lb Beef Stew Meat; $4.29 lb Beef for Stir-Fry; $3.99 Tacos or Taquitos; 12/$1 Persian Limes; 5/$5 Red Mangos; 2/$1 Red Radishes; $.77 lb Yucca Root; $2.99 lb Bulk Cascade Peppers; 2/$5 Chips Ahoy! Cookies; 2/$3 Extra Thin White Bread; $.88 Del Monte Ketchup; $1.88 Jif Peanut Butter; $1.88 Parade Vegetable Oil; $7.99 Alpo Dog Food; $4.99 Angel Soft Bath Tissue or Sparkle Paper Towels; $1.98 Guerrero Corn Tortillas; $5.99 Tropicana Pure Premium Orange Juice; and more.
Find all deals and offers in the latest Sellers Brothers ad for your local store.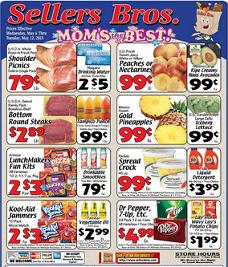 Promotions, discounts, rebates, coupons, specials, and the best sales for this week are available in the weekly ad circular for your store.