Check Smith's weekly ad preview for this week, valid November 29 – December 5, 2023: $0.98 lb With Card Utah Yellow Peaches; $5.99 lb With Card New York Beef Strip Steak; $0.88 lb With Card Navel Oranges or Bartlett Pears; $1.48 lb With Card White Peaches or Nectarines or Plums; 2/ $5.00 With Card NatureSweet Glorys or Sunburst Tomatoes; $0.99 lb Yellow or Zucchini Squash; $0.48 lb With Card Whole Seedless Watermelon or Cantaloupe; $0.88 With Card Mangos; $4.49 lb Boneless Beef Stew Meat or Cubed Steaks; $2.99 lb Boneless Chicken Breasts; $1.49 lb Honeysuckle White Turkey Breast; $8.99 lb Wild-Caught Coho Salmon Fillets; $8.99 With Card Great American Tilapia Fillets; $69.99 With Card Keurig Classic Brewer; $4.99 With Card Mason Drinking Jar; $9.99 Blender Bottle with Carry Loop; $14.99 With Card Oster MyBlend Personal Blender; $9.99 With Card Good Cook Food Storage Set; $9.99 With Card Libman In and Out Angled Broom or Tornado Mop; $1.00 Everyday Living Hangers; $6.49 With Card Avery Heavy Duty Binder; $0.49 With Card Crayola Crayons; and more.
Find amazing prices in the latest Smith's Weekly Ad for your local store.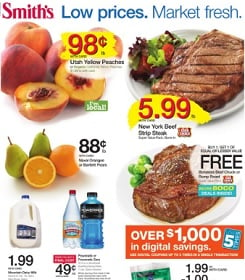 Promotions, discounts, rebates, coupons, specials, and the best sales for this week are available in the weekly ad circular for your store.