Current Snyder weekly ad circular and flyer sales. Discover the best Snyder Pharmacy ad specials, coupons and online deals.
Here you will find the most current Snyder Pharmacy weekly ad featuring great prices on Tylenol Cold; Brach's Fall Candy; Mars Fun Size Bars; VO 5 Shampoo & Conditioner; Allegra All Day Allergy; Kraft Caramels; Russell Stover; Kleenex Upright Tissue; Lindt or Ghirardelli Bars; Coke Products; Fall & Halloween Window Clings; Act II Microwave Popcorn; Absopure Water; Angel Soft Bath Tissue; and more.
Snyder Pharmacy stores activate their weekly ad on every Sunday.
Snyder Pharmacy has stores in 13521 Illinois Rt. 76, Poplar Grove, Illinois; 301 North Galena Avenue, Dixon, Illinois; 101 Landmark Drive, Winnebago, Illinois; 100 West Blackhawk Dr, Byron, IL; 201 N. 4th Street, Oregon, Illinois; 110 E. Mason Street, Polo, Illinois; 415 W Blackhawk Dr, Byron, IL.
Find all deals and offers in the latest Snyder Pharmacy ad for your local store.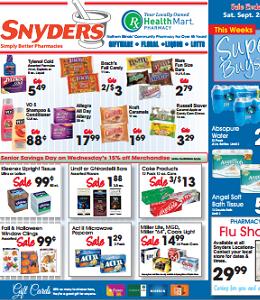 Promotions, discounts, rebates, coupons, specials, and the best sales for this week are available in the weekly ad circular for your store.