Browse Spain's Supermarket weekly ad circular & deli sales. Discover the Spain's Supermarket ad specials, grocery deals, digital coupons, and catering offers on iweeklyads.com.
Here you'll find the current Spain's Supermarket ad featuring great prices for: Carolina Pride Smoked Sausage; Oscar Mayer Sandwich Meats; John Morrell Bacon; Bar-S Wieners or Bologna; Williams Sausage Roll; Sirloin Pork Chops; Crisp Cucumbers; Large Bell Peppers; Tomatoes on the Vine; Green Cabbage; Kraft Mayonnaise or Miracle Whip; Tide Liquid Laundry Detergent; and more.
The grocery retailer store activate the weekly ad on every Wednesday.
Spain's Supermarket is located at 318 2nd St, Grenada, Mississippi.
Find all deals and offers in the latest Spain's Supermarket ad for your local store.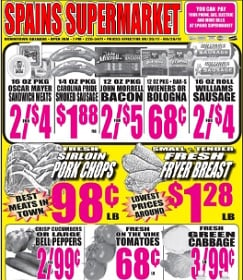 Promotions, discounts, rebates, coupons, specials, and the best sales for this week are available in the weekly ad circular for your store.