Explore the Sprouts Ad savings for this week: Yellow Nectarines; All-Natural Boneless Skinless Chicken Thighs; All-Natural Country Style Pork Ribs; All-Natural Cut-Up Chicken; All-Natural Lamb Loin Chops; All-Natural Marinated Pollo Asado; All-Natural Whole Chicken; Jumbo Cantaloupes; Old Tyme Butcher Shop 93% Lean Ground Turkey; Old Tyme Thick Sliced Bacon Hickory or Double Smoked; USDA Choice All-Natural Boneless New York Steak; Cucumbers; Organic Red or Green Seedless Grapes; Atlantic Salmon Fillets; Large EZ Peel Shrimp; Fresh Alaskan Halibut Portions; Center-Cut Swordfish Steaks; Board's Head Beechwood Smoked Black Forest Ham; Mild Cheddar Cheese; Large Wild Caught Lobster Tails; and more.
Find all deals and offers in the latest Sprouts Farmers Market Weekly Ad for your local store.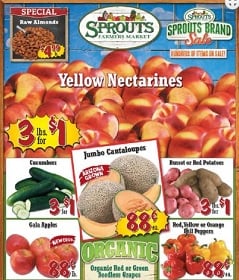 Promotions, discounts, rebates, coupons, specials, and the best sales for this week are available in the weekly ad circular for your store.