Browse this week savings from Stater Bros. Ad, valid September 27 – October 3, 2023. $4.99 lb T-Bone or Porterhouse Steak; $.99 lb Asparagus; $4.99 Mandarins; $2.39 Stater Bros Milk; $9.99 Simply Done Bath Tissue; $1.99 Stater Bros Pure Water; $1.49 Mother's Cookies; $5.99 lb Beef Loin Boneless Flap Meat; $3.99 lb Flat Cut Corned Beef Brisket; $2.99 lb Boneless Pork Loin Roast; $1.29 lb Randall Farms Chicken Leg Quarters; $.99 lb Large Navel Oranges; $.99 lb Roma Toamtoes; $.99 lb Italian Squash; $.99 Cucumbers; $.99 lb Pineapple; $.99 lb Fuji, Pink Lady or Braeburn Apples; $1.99 lb Yellow Nectarines; $1.99 lb Green Seedless Grapes; $5.49 Naked Juice or Smoothie; $8.99 Cleo&Leo Family Size Sub Sandwich; $2.99 Cleo&Leo Irish Soda Bread; $6.99 lb Cleo&Leo Swiss or Baby Swiss Cheese; and more.
Find all deals and offers in the latest Stater Bros. Weekly Ad for your local store.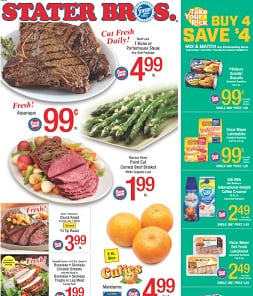 Promotions, discounts, rebates, coupons, specials, and the best sales for this week are available in the weekly ad circular for your store.