Browse Stelmacki's Market weekly ad circular & flyer sales. Discover the Stelmacki's Market ad specials, grocery deals, printable coupons, and online offers on iweeklyads.com.
Here you'll find the current Stelmacki's Market ad featuring great prices for: Fresh Lean Lamb Chops; Split Fryer Breast; Fresh Full Cut Rib Tips; Lay's Potato Chips; Hidden Valley Ranch Dressing; Green Beans; Sweet Seedless Watermelon; California Peaches or Nectarines; Best Choice Baked Beans; Best Choice Charcoal; Ro-Tel Diced Tomatoes; Hungry Jack Pancake Mixes; Green Cabbage; and more.
The grocery retailer store activate their weekly ad on every Monday.
Stelmacki's Market is located at 9965 Lewis & Clark, Moline Acres, MO 63136.
Find all deals and offers in the latest Stelmacki's Market ad for your local store.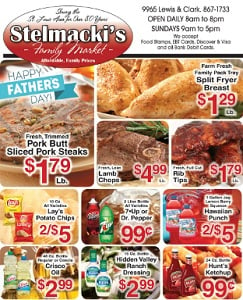 Promotions, discounts, rebates, coupons, specials, and the best sales for this week are available in the weekly ad circular for your store.