Featured specials in the Vallarta weekly ad sale for this week, valid September 20 – September 26, 2023. Sweet White Corn; Seeded or Seedless Watermelon; Fresh Cherries; Roma Tomatoes; Green Limes; Fresh Boneless Beef Chuck Steak or Tri Tip Roast; Fresh All Natural Chicken Leg Quarters; Tilapia or Swai Fillet; Fresh Marinated Pork Meat for Tacos; Fresh Strawberries 1 lb Package; Bar-S Jumbo Franks; Ragu Pasta Sauce; Virtue Value Size Bath Tissue; Xtra Liquid Laundry Detergent; Fresh Express Garden Salad; Sweet White Peaches; Chicken Leg Meat; Fresh Bone-in Beef Chuck Steak or Roast; Fresh Boneless Skinless Chicken Breast; Fresh Diced & Marinated Beef Carne Asada Taco Meat; Special Value Liquid Bleach; Axe Invisible Solid Deodorant; Coleman Cooler Combo; American Maid 12 Gallon Tub; VMI Adult Folding Chair with Cup Holder; Cantaloupe Melons; and more.
Find all deals and offers in the latest Vallarta Weekly Ad for your local store.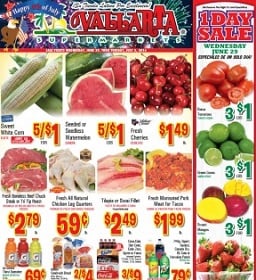 Promotions, discounts, rebates, coupons, specials, and the best sales for this week are available in the weekly ad circular for your store.