Browse the Walmart Ad Deals for this week, valid September 28 – October 4, 2023: $18.58 93/7 Lean Ground Beef; $1.48 lb Roma Tomatoes; $.98 Green Onions; $1.74 Great Value Sour Cream; $1.84 Great Value Fiesta Blend Shredded Cheese; $2.68 Pace Thick & Chunky Mild Salsa; $1.94 lb Boneless Half Pork Loin; $4.47 lb Select Beef Chuck Roast; $3.42 Olive Garden Italian Dressing; $1.78 Marzetti Cheese & Garlic Croutons; $1.98 Grape Tomatoes; $2.46 Marketside 8-Pc. Savory Garlic Knots; $1.18 lb Broccoli Crowns; $3.98 Marketside Salad; $7.28 John Soules Foods Fully Cooked Beef Fajitas; $5.48 John Soules Foods Fully Cooked Chicken Fajitas; $9.98 Great Value Pulled Pork Meal Kit; $9.98 Vegetable Tray; $3.18 LaCroix Sparkling Water 8 Pack; $2.78 Great Value Rising Crust Pepperoni Pizza; $1.68 lb Frozen Bone-In Turkey Breast; and more.
Find all deals and offers in the latest Walmart Weekly Ad for your local store.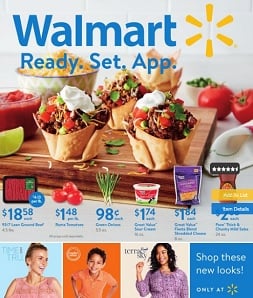 Promotions, discounts, rebates, coupons, specials, and the best sales for this week are available in the weekly ad circular for your store.