Check Walt's Food Centers Ad Circular, valid September 27 – October 3, 2023. This Week Ad best deals, and grocery specials on: Hillshire Farm Skinless Shankless Smoked Ham; Tricar Mini Sweet Peppers; Arm & Hammer Liquid Laundry Detergent; Oscar Mayer Sliced Bacon; Kraft Salad Dressings; Washington Premium Apples; Sweet Seedless Grapes; Red Ripe Sweet Grape Tomatoes; Dole Tender Crisp Celery Hearts; Driscoll's Finest Sweet Premium Strawberries; Driscoll's Finest Fresh Sweet Blueberries; USDA Choice Top Round London Broil; Hereford Natural Beef Boneless Chuck Roast; Scott Petersen Jumbo Franks; Sea Best Catfish Fillets; Boneless Pork Chops; Dutch Farms Orange Juice; Centrella Best Since Butter; White Castle Club Pack Hamburgers; Hidden Valley Ranch Salad Dressing; Kibbles'n Bits Dog Food; Hungry Jack Pancake Mix; and more.
Find all deals, offers and prices in the latest Walt's Food Centers Weekly Sale Ad Specials.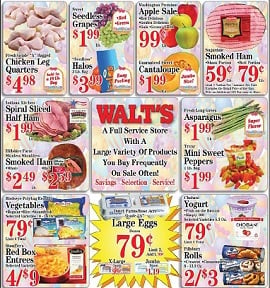 Promotions, discounts, rebates, coupons, specials, and the best sales for this week are available in the weekly ad circular for your store.