Current Walt's Weekly Ad Circular and flyer sale on iweeklyads.com. Discover the best Walt's Food Centers weekly ads, specials, coupons and offers.
Here you will find the current Walt's Food Centers Ad featuring best prices on: Porterhouse Steak; Bi-Color Sweet Corn; Pork Shoulder Steaks; Boneless Round Steaks; Whole Watermelon; Whole Pork Tenderloin; 2/$4 Blueberries and Blackberries; Roma Tomatoes; Bratwurst Buns; Waffles; Pancakes; Orange Juice; Swiss Cheese; Polish Ham; Ice Cream; Coke, Sprite; Country Fried Chicken; Bell Peppers; Chocolate Chip Cookies; Homestyle Apple Pie; Corned Beef; T-Bone Steak; Pork Sausage Roll; Lake Trout Fillets; and more.
Walt's has stores in South Holland, IL; Crete, IL; Homewood, IL; Frankfort, IL; Timley Park, IL; Beecher, IL; Dyer, IN.
Walt's Food Centers store hours: Monday – Saturday: 7:00 am-9:00 pm; Sunday: 7:00 am-7:00 pm.
Find all deals and offers in the Walt's Food Centers Weekly Ad, valid March 9 – March 15, 2016.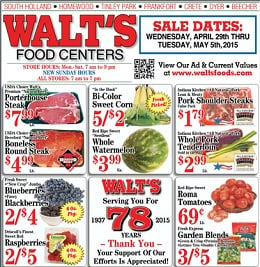 Promotions, discounts, rebates, coupons, specials, and the best sales for this week are available in the weekly ad circular for your store.