Featured offers in this Ace Hardware Ad Sale, including: $59.99 Premium Holiday Laser Light Projector with Remote; $39.99 Star Shower Laser Light Projector; $4.99 Amaryllis Bulb Kit; $39.99 30 Qt. Propane Turkey Fryer; $119.99 Butterball Indoor Electric Turkey Fryer; $11.99 ea 150 Ct. LED M5, C6 or Traditional Bulb Reel Light Set; $9.99 Fresh Wave Crystal Gel Natural Odor Eliminator Bonus Pack; $29.99 6′ Fold-in-Half Table; $14.99 ea Black & Decker Variable Speed Jigsaw; $24.99 Black & Decker Mouse Detail Sander with Dust Collector; $9.99 Stanley Heavy Duty Staple Gun or Ace 6 Pc. Precision Screwdriver Set; $9.99 Craftsman Tools & Accessories; $3.99 GE Dimmable LED Bulb; $4.99 Red or Green LED Bulb; $12.99 Premium Songbird Seed, 7 lb or Nut & Fruit Wild Bird Food, 5 lb; $79.99 Infrared Quartz Heater; and more.
Find all deals and offers in the latest Ace Hardware Sale Ad for your local store.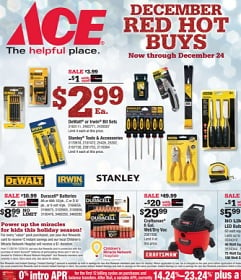 Promotions, discounts, rebates, coupons, specials, and the best sales for this week are available in the weekly ad circular for your store.