Current Busch's weekly ad circular and flyer sales. Discover the best Busch's ad specials, coupons and online deals.
Here you will find the most current Busch's weekly ad featuring great prices on Farm Fresh Boneless Skinless Chicken Breast; Koepplinger's Wheat Bread; Busch's Gourmet Stuffed Burgers; Fresh Spare Ribs; Ground Round; All Natural Pork; Miller Amish Bone-in Split Breast; Smithfield Bacon; Fresh True North Salmon Fillets; Harvest of the Sea Cooked Shrimp 26/30 ct; Broccoli; Hand Pack Strawberries; Hand Sown Farms Shoots; Hand-Picked Blueberries; Michigan Roma Tomatoes; Mixed Baby Bell Peppers; Mushrooms; Organic Green Onions; Organic Romaine Hearts; Organic Strawberries; Peaches or Nectarines; Red or Black Plums; Horizon Milk; Minute Maid Juice; Sargento Cheese; Yoplait Greek Yogurt; Arm & Hammer Laundry; and more.
Busch's stores activate their weekly ad on every Monday.
Busch's has stores in Ann Arbor Green Rd; Ann Arbor Main St.; Carleton; Clinton; Dexter; Farmington Hills; Livonia; Novi; Pinckney; Plymouth/Northville; Rochester Hills; Saline; South Lyon; Tecumseh; West Bloomfield.
Find all deals and offers in the latest Busch's ad for your local store.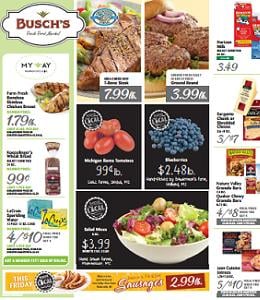 Promotions, discounts, rebates, coupons, specials, and the best sales for this week are available in the weekly ad circular for your store.