Current Claiborne Hill Save ad, circular and flyer sales in Claiborne, MS. Discover the best Claiborne Hill weekly ad coupons and offers on iweeklyads.com.
Here you will find the most current Claiborne Hill ad featuring great prices on: USDA Select Whole Boneless New York Strips; Whole Boneless Pork Loins; USDA Select Whole Boneless Eye of Round Roast; USDA Grade A Boneless Skinless Breast; USDA Select Boneless New York Strip Steaks; Camellia Red Beans; Mahatma Long Grain Rice; Shurfine Diced Tomatoes; Value Time Apple Juice; Chicken, Tuna or Hamburger Helper; Progresso Soups; Maxwell House Master Blend or Original Coffee; Bran Flakes or Shredded Wheat Shurfine Cereal; Cheez-It Crackers; Krispy Crackers; Shurfine Ice Cream; Totino's Pizza; International Delight Creamer; Tony's Pizza; 24 Pack Coke Products; Silk Almond Milk; Grands Biscuits; Kraft Cool Whip; Open Ketle Dumplings; Daisy Sour Cream; Sunny Delight; Mary B's Biscuits; Sweet Baby Ray's BBQ Sauce; Arby's or Checkers Fries; Marksman Dog Food; Guidry's Frozen Breaded Catfish Strips; Boiled Spicy Turkey Necks; and more.
Claiborne Hill stores activate their weekly ad on every Wednesday. Don't miss: Winn-Dixie Ad Sales.
Claiborne Hill has stores opened in: Claiborne Hill Picayune 2308 Hwy 11 North, Picayune, MS 39466; Claiborne Hill Waveland 410 Hwy 90, Waveland, MS 39576.
Find all deals and offers in the latest Claiborne Hill ad for your local store.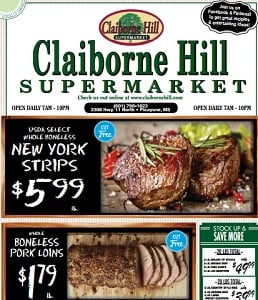 Promotions, discounts, rebates, coupons, specials, and the best sales for this week are available in the weekly ad circular for your store.