Current Jeff's Market weekly ad circular and flyer sales. Discover the best Jeff's Market ad specials, coupons and online deals.
Here you will find the most current Jeff's Market weekly ad featuring great prices on Boneless Chuck Denver Steak; Boneless Pork Sirloin Chops; Michigan Grown Asparagus; Sweet Cherries; Spartan Split Top White Bread; 2/$3 Spartan Sour Cream or French Onion Dip; Breyers Ice Cream; Klondike Novelties; Spartan Peanut Butter; Nature Valley or Fiber One Bars; Hunt's Snack Pack Pudding or Juicy Gels; Spartan Ketchup; Spartan Baked or Grill Style Beans; Friskies Dry Cat Food; Spartan Charcoal; Spartan Frozen Vegetables; Banquet Frozen Dinners or Lunch Entrees; Natural or Ultra Thin Sliced Cheese; Ground Beef from Chuck; St Louis Style Pork Spare Ribs; Boneless, Skinless, Chicken Thighs; T-Bone Steak; Bar S Franks; Butterball Ground Turkey; Fresh Express Premium Garden Salad; Whole Seedless Watermelon; and more.
Jeff's Market has stores in 5455 Main St. in Lexington; 54 N. Howard Ave. in Croswell; and publish it's weekly ad every Monday.
Find all deals and offers in the latest Jeff's Market ad for your local store.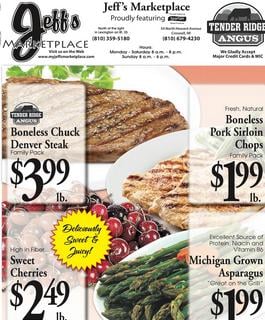 Promotions, discounts, rebates, coupons, specials, and the best sales for this week are available in the weekly ad circular for your store.