This week Peoria Packing Butcher Shop ad, circular and flyer sales in 1300 West Lake Street, Chicago, Illinois 60607. The best weekly ad coupons and offers on iweeklyads.com.
Here you will find the most current Peoria Packing Butcher Shop ad featuring great prices on: Fresh Spare Ribs; Frozen Pork Hatfield Rib Tips; Pork Loin or Pork Chops; Small Chicken Wings; T-Bone Steak; Homemade Sausages; Whole White Chicken; Lip on Ribeye Steak; Boneless Skinless Chicken Breast; Brisket; Beef Taco Meat; Catfish; Pork Steak; Smoked Turkey Parts; Homemade Sausages; Smoked Sausage; Turkey Parts; and more.
Peoria Packing Butcher Shop store activate it's weekly ad every Wednesday.
Find all deals and offers in the latest Peoria Packing Butcher Shop ad for your local store.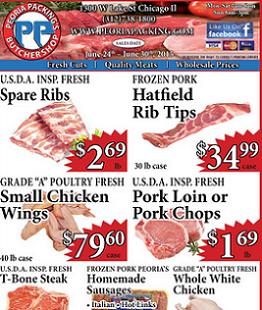 Promotions, discounts, rebates, coupons, specials, and the best sales for this week are available in the weekly ad circular for your store.