Find the Piggly Wiggly Ad for this week, valid January 25 – January 31, 2023: $1.29 lb California Peaches; $1.19 French Bread; $2.49 Glazed Donuts; $1.29 Starz Sugar Cookies; $.99 Betty Crocker Helpers; $.69 Essential Everyday BBQ Sauce; 2/$1 Essential Everyday Can Vegetable; $1.79 Essential Everyday Ketchup; 2/$1 Essential Everyday Squeeze Mustard; $1.99 Carolina Pride Smoked Sausage; $9.99 Pork Sausage Patties; 2/$5 Grower's Pride Orange Juice; $2.49 lb Boneless Chicken Breast; $1.49 lb Boneless Sirloin Pork Chops; $2.49 lb Center Cut Pork Chops; $2.79 lb Ground Beef; $.88 lb Pilgrim's Pride Thighs; $3.49 lb Rump Roast; $1.79 lb Whole Boneless Pork Loins; $1.59 lb California Broccoli Crowns; 2/$5 California Cantaloupes; 2/$4 Fresh Yellow Onions; $1.49 lb Red Seedless Grapes; $1.19 lb Yellow or Zucchini Squash; and more.
Find all deals and offers in the latest Piggly Wiggly weekly ad for your local store.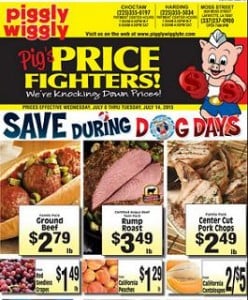 Promotions, discounts, rebates, coupons, specials, and the best sales for this week are available in the weekly ad circular for your store.