Rural King Weekly Ad Circular Sale, valid November 27 – November 29, 2023. This Week Rural King Flyer sale best deals and prices: Midwestern Sweet Mix; Complete Horse Feed; Layer Crumbles; Safe Choice Senior; Cracked Corn; Whole Corn; Feather Fixer Poultry Feed; Floating Cat Fish Food; Rabbit Pellets; Rubbermaid 100 Gallon Stock Tank; Hen House; Bronco Fly Spray; All Showmaster S Series Feed; Wood Shavings; Mealworm Chicken Treats; Alfalfa Pellets; Era Liquid Detergent; Backpack Sprayer; Work & Western Boots For the Family; Essential Plaid Open Collar Short-Sleeve Shirt; Men's 505 Jeans By Levi's; Straw Hats For The Family; Mens & Ladies' Clogs; Butter or Honey Wheat Pretzels; Bungee Cord Set; Pool Fast Set; Adult Sleeping Bag; Good Friends Hi Protein; Cuddler Dog Bed; and more.
Find all deals and offers in the latest Rural King Weekly Sale Ad Flyer.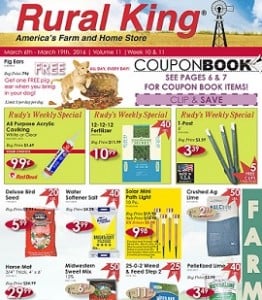 Promotions, discounts, rebates, coupons, specials, and the best sales for this week are available in the weekly ad circular for your store.