Browse Weis Weekly Ad Circular Preview for this week, valid September 21 – September 27, 2023. This Week Weis best deals, printable coupons, savings and sale on: Tru Moo 1% Chocolate Milk – 1 gallon; General Mills Cereal; Gain Laundry Detergent; Francesco Rinaldi Pasta Sauce; Dietz & Watson American Cheese; French's French Fried Onions; Turkey Hill Ice Cream; Golden Blossom Honey; Pompeian Olive Oil; Alaskan Cod Fillet Wild Caught; Choice Black Angus Top Round Steaks; Choice Porterhouse or T-Bone Steaks; Boneless Pork Loin Roasts; Perdue Roasting Chicken; Sugardale or Smithfield Spiral Hams; Pedigree Dry Dog Food; Fresh Asparagus or Brussel Sprouts; McIntosh or Gala Apples; Leafy Green Romaine; Gold Pineapples; Jumbo Navel Oranges, Cara Caras, Minneolas, Red Grapefruit or Pummelo; Red and Green Bell Peppers; Roma Tomatoes or Jumbo Sweet Onions; and much more.
Find all deals, offers, and prices in the latest Weis Weekly Sale Ad Circular for your local store.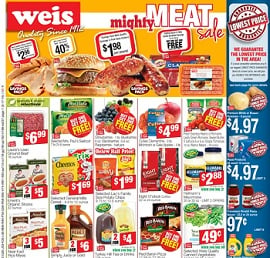 Promotions, discounts, rebates, coupons, specials, and the best sales for this week are available in the weekly ad circular for your store.